Parent and Baby Yoga Teacher Training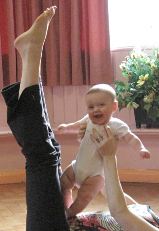 This training is for Childcare Practitioners, Yoga Teachers or those who have a background of at least two years in yoga, that are wanting to set out in teaching Parent & Baby Yoga . The practitioner can be fully qualified in working with children or yoga teaching, and/or is already working with children for some time (2 years+), being a mum is counted!, or has at least one-two years continuous practice in yoga. This then allows the practitioner to have an already sound working knowledge of yoga, parents, babies/children, and of the health and well-being issues of families.
ALL DISCOUNTS FOR DISTANCE LEARNING ARE TO BE BOOKED VIA THE SALES & DISCOUNTS PAGE (left of this page)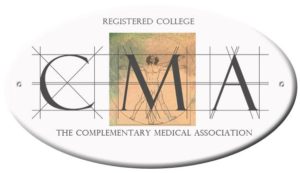 This course (onsite and online) is also accredited with the CMA – Complimentary Medical Association (http://www.the-cma.org.uk/) – click here for MEMBER BENEFITS
DISTANCE LEARNING AVAILABLE!
See below for the image to the YOGAKIDZ ONLINE TRAINING CENTRE – THIS IS WHERE YOU CAN BOOK FOR ONLINE TRAININGS: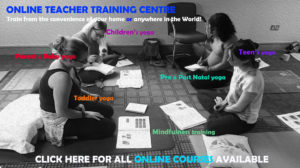 ~
NEXT ONSITE TRAINING DATES FOR PARENT & BABY YOGA TEACHER TRAINING ARE: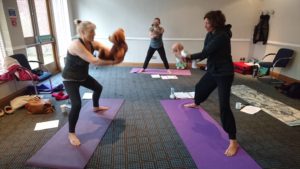 ~
* ONE-ONE Teacher Training is available over one weekend, this usually takes place in Carnforth, Lancashire, however it is also done at locations near yourself. This training is on request, please contact Sarah (contact us) for more details *
DATES IN 2018
~
VENUE: BIRMINGHAM, JUNCTION 7 HOLIDAY INN (5mins from M6)
Saturday & Sunday DATES TO BE CONFIRMED  2018:
Times are: 9am-4.30pm (approx.) on both days
9am – 4.30pm
£400
~
THIS COURSE IS ALSO AVAILABLE AS DISTANCE LEARNING AT £370.
~
The training and ideas set out in this training form the basis of a Parent & Baby Yoga class. Along side your own knowledge and experience, this training introduces you into taking a basic Parent & Baby Yoga class. All classes are ideally educational in terms of teaching the background of yoga and of all traditional yogic practices, yet include some fun and exciting techniques for parents and baby to do in the sessions and at home—promoting bonding with the baby, babies development, mummy's healing and also family health.
On your starting of the course(s) you will be able to join the Yogakidz Facebook private group. This is a place for you to introduce yourself, meet other students and qualified Yogakidzteachers, support each and swap ideas.
The aims of this Yogakidz training is to assist you in creating fun, inspirational and educational Parent & Baby Yoga classes so that the parent will enjoy yoga and continue to use its wonderful tools with their baby and on themselves.
Topics covered are:
Benefits of Yoga for Parent & Baby.
Why teach Baby Yoga?
Breathing Techniques.
Mummy's Yoga Practicals.
Baby's Yoga Practicals.
Parent & Baby Yoga Practicals.
Yoga for Baby Ailments – Colic, Essessive Crying and more…
Lesson Plans.
Props.
Any other topics you feel you would like to know about…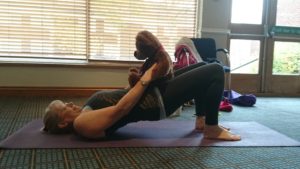 What you gain from the course:
MP4's/Videos of Example Classes and extra info (sent at the start of the course). Access to past onsite training films also.
Certificate of Diploma of training with Yogakidz (you can then teach the relevant age range)
A hardcopy training manual with all the techniques and ideas in
FREE advertising on our sister website: www.yogakidz.co.uk – on the 'Teachers Directory' page
A working knowledge of teaching yoga to parent and baby with ideas and inspirations.
Support from Yogakidz Ltd.
Entry into the Yogakidz Private Facebook group where you can ask questions, share ideas and network.
Marketing Resources—Flyers/Posters/Business card templates, Legal information, Logos, bookings forms, term & conditions, and much more. You can also apply for a DBS with us on completion of the training.
This course is also accredited with the CMA – Complimentary Medical Association (http://www.the-cma.org.uk/) – click here for MEMBER BENEFITS
For the first year on completion of the course(s) you will be mentored by us also so that you are helped you though any teething issues, and to make sure that you are happy with your new classes. You can raise any queries along the way, and we are also here for you if you just want to bounce ideas off us.
You may want to consider sending your details in for the Teacher Directory when you have finished your course(s). It is free! Basically you send us the details about yourself that you would like on the webpage and then we will enter them under whichever course heading which you have qualified in (eg Parent & Baby Yoga Teachers/Classes'). This way people will contact you about any classes running in your area and bring you business.
ALL COURSES: The only extra cost after the course is that you need to pay a one off fee of £25, this registers you with us and allows you to use the Yogakidz Yoga Teacher title (the Yogakidz name is now recognised worldwide!). This gives you permission to use the Yogakidz logos and stationary, as well as much more information created by Yogakidz. You will have complete access to the resource page where you will find poster, flyer, business card templates, legal information and much more. The resource page is also constantly being updated year upon year.
Make A Booking
PAY PER MODULE IS ALSO AVAILABLE – Please contact us for more information if this is a better option for you (distance learning only)
NB: Courses are non refundable after booking, however it maybe possible to transfer to another course.
PLEASE EMAIL AFTER BOOKING TO STATE WHAT DATE AND VENUE YOU WISH TO ATTEND – Thank you!
ALL DISCOUNTS FOR DISTANCE LEARNING COURSES, TO BE BOOKED VIA THE SALES & DISCOUNTS PAGE (left of this page)
ONLINE STUDENTS PLEASE CLICK THE IMAGE BELOW TO LOGIN TO YOUR COURSE ON THE ONLINE TRAINING CENTRE